Notification to all Airport Users, 
A Presidential TFR has been issued for our area from Friday, March 03, 2017 at 3:30 PM local to Sunday, March 5, 2017 at 10:30 PM local. The FAA recommends that all aircraft operators check NOTAMs often for  mandatory airspace restrictions prior to operations within this region.
NOTAM : 7/8794     Location : Palm Beach, FL, Friday, March 3, 2017 through Sunday, March 5, 2017 Local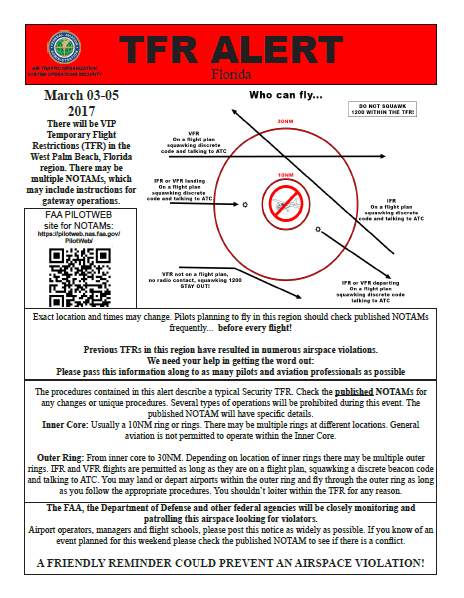 The Boca Raton Airport is located within the 30 NM outer ring of this TFR. Aircraft operations within this 30 NM outer ring are limited to arriving and departing traffic. All aircraft operating within this outer ring must:
Be on an active VFR or IFR flight plan.
Squawk an assigned discreet code.
Remain in radio contact with ATC.
All flight training, such as pattern work and practice approaches, are prohibited while the TFR is in effect.
Specific instructions and restrictions can also be found at http://tfr.faa.gov once the NOTAM has been issued.