On Thursday, November 10th, Boca Raton Airport Authority staff and tenants came together in the Signature Flight Support hangar for a luncheon and canned food drive.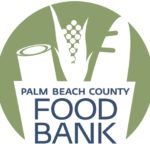 The event raised over 300 pounds of food for the Palm Beach County Food Bank, which will help feed hungry families during the holiday season.
Executive Director Clara Bennett led the proceedings, introducing Boca Raton historian Bonnie Dearborn. She spoke on the rich past of the Airport, highlighting the significant role it has played in South Florida's general aviation community.
Lucky attendees received raffle prizes, including goodie bags from the BRAA and Signature Flight Support, as well as Sally J. Ling's book A History of Boca Raton.
Held the day before Veterans Day, the tenant luncheon also honored the brave men and women who've served this country. Since the days of the Boca Raton Army Air Field, service members have been a vital part of the Airport. The BRAA thanks veterans for their contributions.