Multiple VIP TFRs have been issued for our area on Wednesday, January 20, 2021 through Thursday, January 21, 2021. The first TFR begins on January 20, 2021 at 10:45 AM through 12:00 PM. The Boca Raton Airport is located within the 30 NM outer ring of this TFR. Aircraft operations within this 30 NM outer ring are limited to arriving and departing traffic unless authorized by ATC. All aircraft operating within this outer ring must:
Be on an active IFR or filed VFR flight plan.
Squawk an assigned discreet code.
Remain in radio contact with ATC.
All flight training, such as pattern work and practice approaches, are prohibited while the TFR is in effect.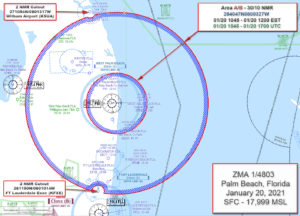 The second TFR begins on Wednesday, January 20 at 11:30 AM until Thursday, January 21 at 12:30 PM. This TFR extends for 3 NM and to an altitude of 2,999 feet AGL. No aircraft operations are allowed in this area with the following exceptions:
Aircraft arriving or departing Palm Beach International Airport.
Law enforcement, firefighting, and medevac/air ambulance flights on active missions.
Aircraft operations necessitated for safety or emergency reasons.
All aircraft approved to operate within the TFR must be squawking an ATC discrete code at all times and must remain in two-way radio communications with ATC.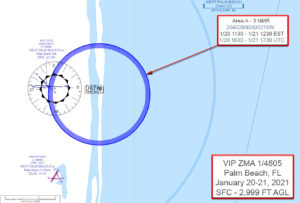 As always, please check NOTAMS for the most up to date information.