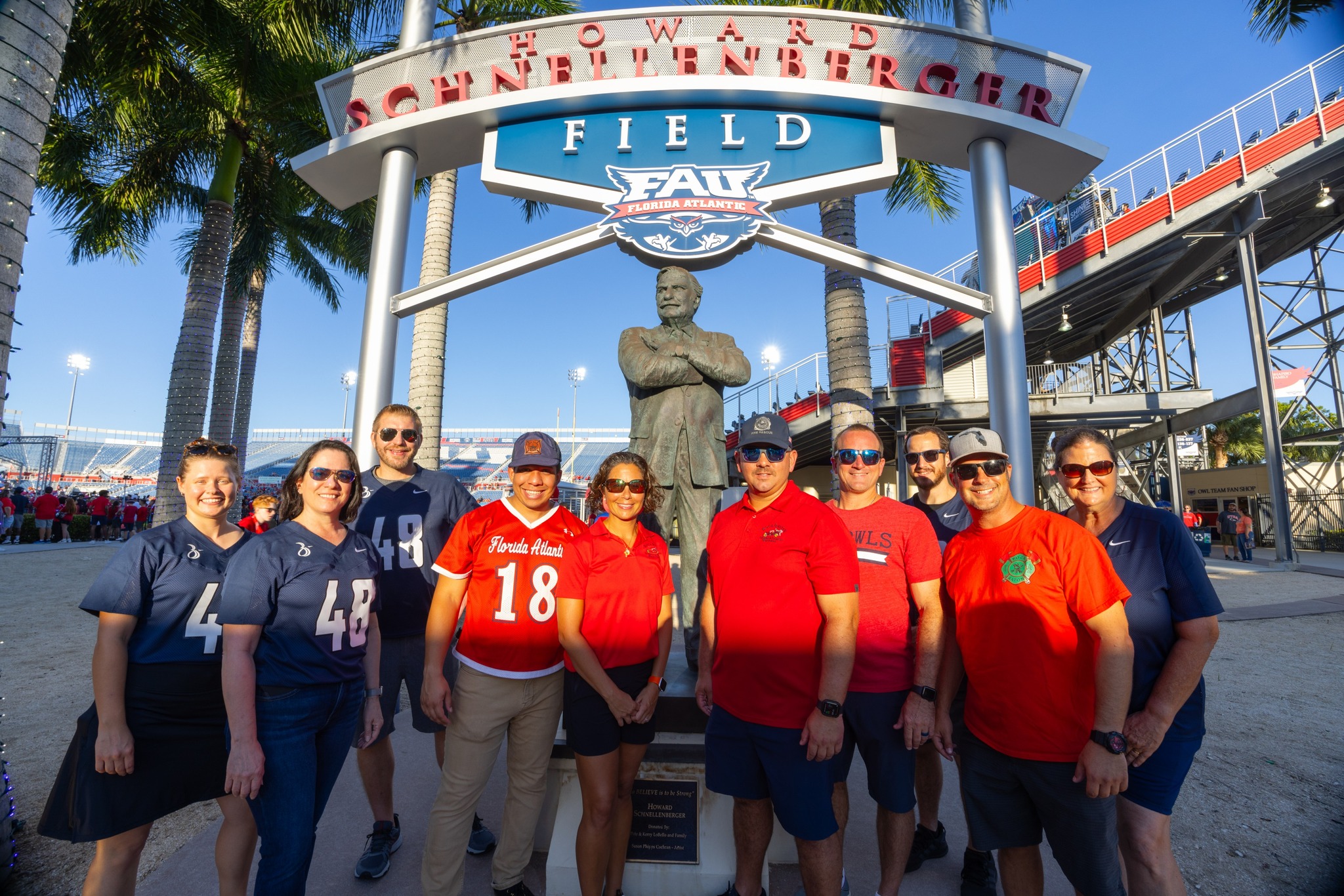 Sergeant Wigfall Honored as Hometown Hero at FAU Homecoming Game
The Boca Raton Airport Authority has partnered with Florida Atlantic University to celebrate the brave men and women who serve our country and local communities. As the official sponsor of the Hometown Heroes initiative, the Boca Raton Airport Authority stands in solidarity with these courageous individuals who have demonstrated unwavering dedication and have made profound sacrifices to elevate our community.
One such exemplary individual is Sergeant J.R. Wigfall, who was nominated by the Boca Raton Airport Authority and selected to be honored as a Hometown Hero. He was recognized on the field during the FAU homecoming game on Saturday, October 21.  Clara Bennett, Executive Director of the Boca Raton Airport Authority, commented "As we celebrate the 75th Anniversary of the Boca Raton Airport, we take great pride in honoring Sergeant Wigfall as a Hometown Hero. We thank him for his hard work and the sacrifices he has made to help our community soar."
About Sergeant J.R. Wigfall
Sergeant Jewrel R. Wigfall is currently assigned to the Florida Highway Patrol Southern Region Air Support Unit.  He is responsible for providing safe and efficient aerial support to members of the Florida Highway Patrol (FHP) and other law enforcement agencies across the state by conducting a variety of air support missions, including traffic enforcement, roadway patrol, search and reconnaissance, disaster support, and medical relays.
Sgt. Wigfall began his law enforcement career with the Florida Highway Patrol in 1995, a distinguished graduate from the 89th Basic Recruit Class.  Working his way up through the ranks, in 2004 he was promoted to Corporal and served as a Traffic Homicide Investigator.  As a Traffic Homicide Investigator, he was responsible for investigating deaths that were initiated by traffic crashes, road rage, domestic violence, or any other violent act that occurred on the roadways.
Sgt. Wigfall has always had a passion for aviation and began his flight lessons in 2000 and was promoted to Sergeant in the Air Support Unit in 2010 becoming the first and still the ONLY African American Pilot in the Florida Highway Patrol history.
Sgt. Wigfall currently holds an Airline Transport Pilot (ATP) Certificate, which is the highest certification issued by the Federal Aviation Administration.  In addition, he has logged over 5,000 flight hours in single-engine and multi-engine fixed-wing aircraft.
Sgt. Wigfall received his Associate of Arts Degree from the University of Florida, Bachelor of Science in Law Enforcement Administration with a minor in Business from the University of Phoenix, and currently completing his master's degree in aviation science & technology. He also holds a certificate from the Florida State University for Certified Public Manager.
About the Boca Raton Airport:
The Boca Raton Airport (BCT) is a general aviation transport facility, governed by the Boca Raton Airport Authority and its seven-member board. The Airport serves the corporate, recreational, and flight training needs of the community, averaging over 83,000 operations annually.