A fleet of paper maché planes have landed at the Boca Raton Airport.
On Thursday, September 27th the artwork was delivered by student representatives Sema Thakkar and Colin Rodriguez, as well as Saint Andrew's Director of Marketing & Communications Dr. Carlos Barroso and Visual Arts Teacher Mr. Ron Garrett.
The paper maché planes were created by students from Saint Andrew's School in Boca Raton, and are on display in the lobbies of the Airport's two Fixed Base Operators (FBOs) — Atlantic Aviation and Signature Flight Support, and will soon be on display in the new U.S. Customs and Border Protection (CBP).
"We are very excited to showcase the work of these incredible students," said Boca Raton Airport Authority (BRAA) Executive Director Clara Bennett. "With these galleries set up throughout the Airport grounds, it will be an immersive experience for travelers flying in and out of the Airport."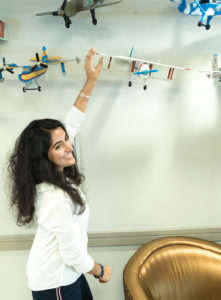 There are numerous kinds of paper maché planes on display, including a WWII-era French biplane and a modern American A-10 Warthog, which were made by Sema Thakkar and Colin Rodriguez respectively.
"I love the way it looks. It's so much different than the modern planes we see," said Thakkar. When discussing the process of building the airplanes, Thakkar said "the curves of the planes are always so unique, especially in the front, (so) it's harder to make it, but Mr. Garrett was very helpful."
The planes on display look so unique, in part because they represent a range of eras and countries. They also utilize a number of different materials in combination with paper maché.
Rodriguez said he focused on "not just the plane itself, but the different features on it," such as weaponry and engines, which he built with chopsticks and glue sticks. When asked about what he plans to do for a career, Rodriguez — a Civil Air Patrol member — said his "biggest dream is to go to the United States Military Academy," adding "I want to be in the military when I get older because I want to do what I can to help this nation."
As the Airport celebrates its 70th anniversary, the artwork on display further strengthens the connection between the Airport and the residents of Boca Raton. The BRAA thanks each student who contributed a paper maché plane. We look forward to more opportunities to partner with the community to further beautify our already attractive city.