Staff from the Boca Raton airport participated in the annual River Run 5k Saturday, December 9th. Participating from left to right, Clara Bennett, Christine Landers, Robert Abbott, and Scott Kohut.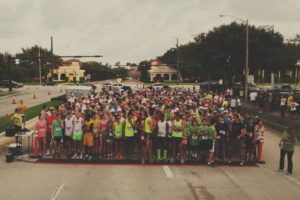 The River Run 5K and Kids Run brings both runners and walkers together to raise support for local child welfare organizations.
The course began on Saint Andrews Blvd. From the parking lot, it turned left onto Saint Andrews Blvd and then took another left at Potomac Rd. At the intersection of Potomac Rd and NW 24th Ave, the course turns around and backtracks all the way to Spanish River Church.
Spanish River Church has hosted The River Run 5k since 2009 and has raised support for various local foster care organizations and families in need.
In past years, proceeds from The River Run 5K will go to Place of Hope At The Leighan And David Rinker Campus in Boca Raton, 4KIDS of South Florida and City House Delray.
The BRAA is a proud participant in our community and together we are #HelpingOurCommunitySoar.