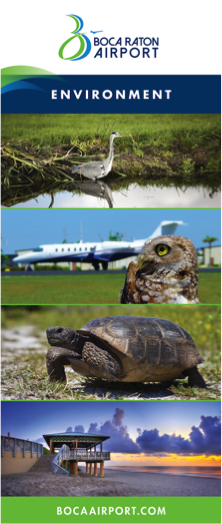 In Part 3 of our Earth Day Series, let's look at the way that the Airport employs Wildlife Management to protect the species that call the Airport and the lands around it home.
3 Ways That Wildlife Management Impacts The Airport
Home to two protected species — gopher tortoises and burrowing owls — the Airport strives to minimize conflicts between aircraft and wildlife.
In 2015, a Wildlife Hazard Assessment was conducted. The study identified potential attractants and ways to protect wildlife on the airfield by keeping aircraft and wildlife separated on and around the Airport.
A Wildlife Hazard Management Plan is currently being created to implement the recommendations of the Wildlife Hazard Assessment.
The Boca Raton Airport is continuously working to minimize its impact on the wildlife that inhabits the area. Contact us today to learn more about the green initiatives at the Boca Raton Airport.