On Wednesday, October 4th, the Boca Raton Airport Authority (BRAA) was honored with the 2017 award for "Distinguished Organization" during the third annual Research Park Annual Awards ceremony.
Organized by the Florida Atlantic Research and Development Association (FARDA), the Research Park Annual Awards are intended to "recognize distinguished contributions to the Research Park's mission to create and sustain the ideal environment for innovation and invention."
Boca Raton Airport Authority (BRAA) Vice-Chair Cheryl Budd and Board Member James Nau were in attendance at the ceremony, as well as Executive Director Clara Bennett and Finance & Administration Manager Ariadna Camilo.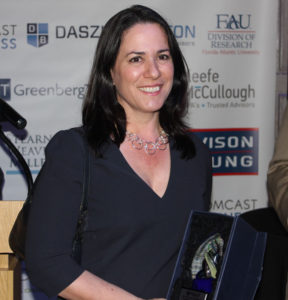 "We always strive to be an asset and community partner to our surrounding businesses and nearby organizations," said Executive Director Bennett. "It's a great honor for the Airport to receive such recognition from our neighbor — the Research Park at Florida Atlantic University."
The BRAA was chosen, in part, because of the Boca Raton Airport's economic impact, which totals $173.8 million. In the Research Park's announcement, particular note was made of the U.S. Customs and Border Protection (CBP) facility, which is slated to open this year.