Bringing convenience and safety to aviators and positively impacting the local community
As it officially marks its first year of operation , the U.S. Customs and Border Protection (CBP) facility at the Boca Raton Airport is clearly demonstrating its positive impact on both the local aviation and marine communities, and on the environment, and economy of southern Palm Beach County.
Having a CBP facility onsite at the general aviation, Boca Raton Airport has led to greater safety, convenience and cost savings for those arriving from outside the US. Aircraft owners who claim BCT as their home base no longer have to make an interim stop at Fort Lauderdale Executive or Palm Beach International airports to clear customs, which is beneficial in numerous ways:
The likelihood of aviation accidents has been reduced through fewer take-offs and landings
Noise levels in surrounding neighborhoods has decreased due to fewer low-altitude local flights
Reduced fuel consumption has lowered the Airport's carbon footprint and saved money for aircraft operators
Federal law enforcement officers monitor the planes and people that pass through customs at the airport, ensuring the security of both passengers and local residents.
The CBP facility was the result of the combined efforts of the Boca Raton Airport Authority, airport tenants and users, Boca city leaders, and various community partners. The first jet to clear customs was a private charter from the Cayman Islands that was piloted and staffed by an entirely female crew. As of April 30, 2019 then the facility has cleared 1,418 aircraft, 6,559 passengers and 17 marine vessels carrying 44 passengers.
"We are thrilled that the Boca Airport CBP has been so successful in connecting the Boca Raton airport to the rest of the world over the last year," said the airport's Executive Director, Clara Bennett. "We hope in the coming years that it continues to offer continued safety, convenience and savings to the aviators and residents of Boca Raton and the surrounding areas."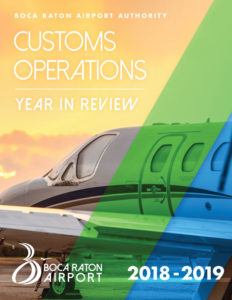 Boca Raton Airport's CBP facility also serves the marine community. Boaters arriving from abroad who have been requested to complete an in-person clearance can now clear closer to their home ports.
At least one new tenant, Privaira Aviation which employs 80 people, has come on board because of the CBP opening, and the Boca Airport Authority hopes to see more tenants benefit in the coming years.
The Airport also completed a infographic overview that highlights some of the interesting facts and figures from the passed 12 months of Customs' operations.