On November 11th, we honor the countless veterans who have served this great country. We remember those who risked their lives and the sacrifices they've made for our freedom.  
This Veterans Day is particularly special, because it is the 100th Veterans Day since the holiday's founding. As we observe this holiday, lets take a look at the history of Veterans Day and why it is especially important to us at the Boca Raton Airport. 
The History of Veterans Day
On November 11, 1919, President Woodrow Wilson commemorated the first Armistice Day as the first anniversary of the end of World War I. In 1926, Congress passed a resolution for an annual observance, and then in 1938 November 11th became a national holiday. 
In 1954, after World War II, President Dwight D. Eisenhower officially changed the name of the holiday to Veterans Day as a way to recognize veterans of all wars. 
Today, Veterans Day places an emphasis on giving thanks to living veterans, differentiating it from Memorial Day which is intended to honor those who gave their lives while serving in the United States Armed Forces. 
A Rich Military Tradition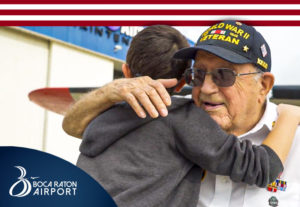 Originally a small city airport, the Boca Raton Airport was converted to the Boca Raton Army Airfield in 1941, laying the groundwork for the Airport that we know today. 
The U.S. had just entered World War II when the Airfield officially opened in 1942, where it served as the only training base that taught flight crews how to use radar, which was a brand new technology at the time.    
The Airfield was vital during the war and remained in operation until late 1947 when it was closed down. In 1948, it was reverted back into a civilian airport and has since flourished as one of South Florida's premier general aviation facilities.  
Since the Airport's founding, it has been deeply intertwined with the Armed Forces. First serving as a base for servicemen to live and train; now acting as a place for Veterans to reconnect with aviation and each other.